You won't want to miss the flash sale with room rates as low as 45% off Flexible Rate* for Standard rooms and Seaview rooms for staying 2 nights and above!

Offer lasts until December 4, 2020 with free cancelation (7 days prior to check-in date). Book now and enjoy your Disney staycation!
Room Types
Hotel
Discount



Hong Kong Disneyland Hotel
Disney Explorers Lodge

45% off Flexible Rate*
(stay minimum 2 nights)
Sign in to your MyDisney Account before you book your stay to enjoy a range of extra benefits, an exclusive gift, and much more!
* A 10% service charge based on the sum of discounted room rate will be applied. An extra charge of HK$200 per person per night applies to the third and fourth guests aged 12 or above staying in the same hotel room.
Check-in Date: Selected dates from January 3 to September 29, 2021
Temporary Service Adjustment
For the health and safety of our Guests and Cast Members, we have made adjustments to some of our hotel services, which include suspending, reducing or adjusting the format of interactive experiences and activities (such as character greetings), restricting the duration and/or manner of access to hotel facilities (such as the swimming pool and playroom) and recreation activities. Advance reservation may be required for selected services.  These adjustments will remain until further notice. For details, please contact us at

Hong Kong Disneyland Hotel +852 3510-6000
Disney Explorers Lodge +852 3510-2000
Disney's Hollywood Hotel +852 3510-5000
Breathtaking sea views
Open your room's expansive windows or step outside to the balcony to take in the sweeping vistas of the South China Sea that guarantee picture-worthy views at any time of the day.

Take the 360-Degree Virtual Tour
Health and Safety Measures
Hong Kong Disneyland Resort continues its measured approach with health and safety measures such as capacity control, health screenings, temperature checks, requiring face masks, social distancing, and increased cleaning and sanitization.
Celebrating 15 Years of Magical Dreams
Happy Birthday! Hong Kong Disneyland's special 15th birthday celebration is a time filled with magic and happiness for all. For 15 incredible years, this land of wonder has been a place where countless dreams have come true. And to mark this momentous occasion, another dazzling dream has come true with the reimagined Castle of Magical Dreams, which is built on 13 classic Disney tales of Princesses and Queens and inspires all who dare to dream big.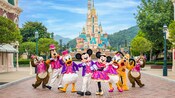 Celebrate with our Disney Friends
There will be festive 15th Anniversary decorations in different corners of the park and different Disney Friends will also be wearing colorful 15th Anniversary-themed costumes. No matter where Guests are in the park's different lands, restaurants, shops or the resort hotels, the birthday surprises they find will fill them with wonder.
HK$30 discount vouchers for hotel guests
Get even more out of your Disney vacation! Guests staying at our resort hotels may enjoy one free gift and three HK$10 discount vouchers for spending at any hotel merchandise store (until December 31, 2020).

Discount vouchers are subject to availability.
Black Friday Hotel Flash Sale (the "Offer")
The Offer is valid for check-in on selected dates from January 3 to September 29, 2021 with check-out date on or before October 1, 2021.
The Offer is applicable to Standard Room and Sea View Room in Hong Kong Disneyland Hotel and Disney Explorers Lodge (each a "Hotel") only.
Full payment of the Total Charges and any additional charge for add-on items will be charged for each reservation at the time of booking.
Guests can cancel or amend the reservation at least 7 days prior to Hotel room check-in. The first night of the hotel stay together with Total Charges (ii) and (iii) will be charged from the Total Charges in case of any cancellation made after the prescribed period stated in this paragraph or no show. Amendment of reservation is subject to availability and Benefit Limits, and no change is permitted after the prescribed period stated in this paragraph.
View All Terms and Conditions
Other Offers You May Like
Hong Kong Resident: "Double Celebration" Offer