Indulge in a perfect two-night getaway with 13% off discount.*

The all-inclusive package includes two-night stay at Disney-themed hotels, park tickets, park and hotel dining and more privileges, flexible for party of 2 to 4!

Book online now and enjoy FREE room upgrade plus Attraction Priority Admission Pass!
"Three Magical Days"
Disney Getaway Package Details
Signature
Deluxe
Premium

Standard Package (for 2 Adults)

2-Night Hotel Accommodation
All Hotels and Room Types
(Exclude Kingdom Club at
Hong Kong Disneyland Hotel)

2-Night Hotel Accommodation
Kingdom Club Room, Kingdom Club Suite
or Kingdom Club Frozen Suite
at Hong Kong Disneyland Hotel

Daily Hotel Breakfast for 2

Free Transportation
from the Hotel to the Airport

2 x 2-Day General Admission Tickets

4 x Park Meal Coupons
(Designated Combo Meal &
Popcorn or Frozen Lollipop)

2 x PhotoPass Plus
(1 x Park & 1 x Hotel Dining)

Reserved Viewing Area – Parade 
(subject to availability)

Add Adult or Child Package and enjoy:

1 x 2-Day Park Ticket

Adult Package (General Admission Ages 12 – 64)


Child Package (Child Ages 3 – 11)

2 x Park Meal Coupons
(Designated Combo Meal &
Popcorn or Frozen Lollipop)

Free Transportation
from the Hotel to the Airport

Reserved Viewing Area – Parade 
(subject to availability)

1x Disney Character Plush
(For Child Package Only)
Check-in Period: October 1, 2018 to September 29, 2019

*Calculated based on the package for 2 adults staying at Standard Room at Disney's Hollywood Hotel.
Book online NOW and enjoy FREE room upgrade
Official Website Exclusive! Book your hotel stay online to receive exclusive privileges-room upgrade and complimentary drink.

Room upgrade applies to the following categories:
Standard -> Deluxe
Complimentary spring-themed gifts for hotel guests
Stay at any of the three Disney hotels during the Carnivale of Stars (March 7 to June 26, 2019) to receive complimentary spring-themed gifts, including an amenities box and slippers – sure to add a sprinkle of springtime magic to your stay!
Priority access to shows and attractions - Exclusive for hotel guests
Guests can now enjoy Priority Admission Passes at a variety of Hong Kong Disneyland Park attractions, including family-friendly attractions and thrill rides!

The number of Priority Admission Passes entitled to guests staying at designated room types are as below:
Kingdom Club Room of Hong Kong Disneyland Hotel: 4 attractions
Sea View Room at the three hotels: 3 attractions
Other Room Type: 1 attraction
Guests staying in the following room types will also get seat reservations for shows, as below:
Sea View room of Disney Explorers Lodge or Hong Kong Disneyland Hotel: seat reservations to "Festival of the Lion King"
Kingdom Club Room of Hong Kong Disneyland Hotel: seat reservations to the first show of "Mickey and the Wondrous Book" on the day of Park visit
Priority Admission Pass(es) can be redeemed at check-in, and may be used at designated Park attractions and shows of your choice.

*Subject to availability. Attractions and shows may be suspended or cancelled without prior notice. Priority Admission Pass will be given according to the number of guests in each room with a maximum of four guests per room.
Easter Magicarnival
The bigger-than-ever Easter Magicarnival will be held across Disneyland Resort's 3 hotels within 19-28, April, 2019! With over 30 exciting themed activities, Young guests aged 2-6 will especially enamored with Disney themed bouncy castles, mini electric cars, this year there are over 10 new activities including large-scale inflatables: archery game, sport challenges, maze and a lot more! You can't miss the arts-and-crafts workshop and performances, plus character appearances from some of your favorite Disney Friends. You're sure to feel excited this Easter!

Simply select Easter Magicarnival Ticket from "Add-on Options" when booking you hotel stay.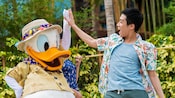 Hotel Recreational Activities
Guests staying at Hong Kong Disneyland Resort's three hotels are invited to join fun activities throughout the day at the recreation facilities of the hotels. Spend morning movie time with Goofy at Disney's Hollywood Hotel*; embark on an afternoon poolside adventure at Disney Explorers Lodge*; and end your day with an immersive Disney Story Time session maze at Hong Kong Disney Hotel* - all without even setting foot in the Park!

*Subject to availability and weather condition. All activities are subject to change without notice.
Complimentary vouchers up to HK$380 for hotel guests
Get even more out of your Disney vacation! Guests staying at our resort hotels may enjoy discounts of up to HK$380, including:
Up to HK$200 discount for spending of HK$800 or above (or HK$100 discount for spending of HK$400 or above) for spending at hotel table service restaurants* except buffets; 
HK$50 discount for dinner buffet at Enchanted Garden Restaurant and Chef Mickey;
HK$100 discount on Castle Package at Bibbidi Bobbidi Boutique; and
One free gift and three HK$10 discount vouchers for spending at any hotel merchandise store.
*Discount vouchers are not applicable and will not be distributed for check-in dates during December 21-31, 2018.
Kingdom Club Frozen Suite
Step into the world of Anna and Elsa as you open the door to the Frozen Suite. Stay in a Frozen Suite at Hong Kong Disneyland Hotel to experience your own Frozen story!

Learn more about Kingdom Club Frozen Suite
Express Rail Link – Full speed ahead on to your magical journey
The Hong Kong Disneyland Resort is now more accessible than ever as the Hong Kong Section of the Guangzhou-Shenzhen-Hong Kong Express Rail Link opens on September 23, 2018. Visitors can take advantage of a range of convenient transportation options once you arrive at the West Kowloon Station. If you stay at Hong Kong Disney Hotels, you can visit the Hong Kong Disneyland Service Center in the Station to check-in for your hotel and arrange delivery for your luggage. Visiting the Park has never been easier and more fun!

Learn more about how to get to Hong Kong Disneyland from the West Kowloon (Express Rail Link) Station.
Official Mobile App
Download the official Hong Kong Disneyland mobile app to find what you're looking for at the resort with GPS-enabled maps that show your location, browse restaurant opening hours, make dining reservations and hotel recreational activities. Plan your park visit with wait times, character greeting locations and times, show schedule and much more.

Learn More about Mobile App
Important Details:
This offer is valid for check-in dates from October 1, 2018 to September 29, 2019 with check-out date on or before October 1, 2019, except for December 22 to 25, 2018, December 29 to 31, 2018 and February 6 to 9, 2019 which are block-out dates.
Actual package price depends on the check-in and check-out dates, the hotel and room category selected, the prevailing room rate, the number of staying Guests in the group and the respective ages of the staying Guests (subject to availability and any Benefits Limits as such term is defined in the Hotel General Terms and Conditions). The prevailing room rate for each hotel (each a "Hotel") is determined at the time of booking.
An extra charge of HK$200 per person per night (subject to 10% service charge) applies to the third and fourth Guests aged 12 or above staying in the same Hotel room. This surcharge covers only the Hotel accommodation fee for the Guest, but does not include any other package components.
Subject to Paragraph 3 above, each Hotel room can accommodate up to a maximum of 4 Guests. At least one adult must be a staying guest in each Hotel room.
A deposit equivalent to one package price will be charged for each package reservation at the time of booking.
Guest may cancel or amend the reservation at least 3 days prior to the check-in-date, except for December 15 to 31, 2018, February 5 to 9 and July 25 to August 20, 2019; in which case cancellation has to be made at least 7 days in advance. The full price of the deposit will be forfeited in case of any cancellation made after the prescribed period stated above or no show. Amendment of reservation is subject to availability and Benefit Limits, and no change is permitted after prescribed period stated above.
View Terms and Conditions
†Guests under age 18 must have parent or guardian permission to call.
Other Offers You May Like
Room and Park Tickets Package
Room and Hotel Breakfast Package