Enjoy our 'Double The Happiness' offer by just spending HK$738. Offer includes 2 visits to the Park plus a free meal (valued up to HK$130) at designated restaurants.

Buy now and enjoy double the happiness with your loved ones!



MyDisney fans are entitled to enjoy many PLAY, SHOP AND DINE privileges (including a special edition Disney gift and multiple discount vouchers) upon a Park Ticket purchase.
Detail
Price

Offer includes
• 2 Park Visits from Now until June 30, 2020

• 1 Meal Combo at one of the designated restaurants below

*

(valued up to HK$130):

  - Starliner Diner (Tomorrowland)

  - Comet Cafe (Tomorrowland)

  - Royal Banquet Hall (Fantasyland)

  - Explorer's Club Restaurant (Mystic Point)

General Admission
(Ages 12 - 64)
HK$ 738
Child
(Ages 3 - 11)
HK$ 549
*Park meal combo vouchers are only valid on the day of Park admission.
Dig into a Delicious Meal at Hong Kong Disneyland Park
Book now and enjoy an array of tasty dining options at Hong Kong Disneyland Park. Choose from delicious cuisines from around the world, including Chinese, Japanese, American and South East Asian.

1 Meal Combo can be redeemed at one of the designated restaurants below:
Starliner Diner (Tomorrowland) - Come in for a landing at this quick-service restaurant with indoor air-conditioned seating and an outdoor patio. This futuristic spaceport caters to families of interstellar travelers looking to relax and refuel before continuing their spin around the galaxy.
Comet Cafe (Tomorrowland) - Taste the future of flavor at this open-air, quick-service restaurant that resembles the wings of a fantastic spaceship. Send a solar expedition to sample 2 food stations—Fiery Wok and Specialty Noodles—with dishes so delicious that they practically light up the night sky with an iridescent trail of culinary satisfaction.
Royal Banquet Hall (Fantasyland) - Enter a colorful medieval festival tent and choose between 3 different food stations, each offering a unique menu. Regional Noodles, Guangdong BBQ , and Wok Favorites are each so tempting that you'll want to join the culinary party at all 3 stations.
Explorer's Club Restaurant (Mystic Point) - Discover a globetrotting menu of daringly delicious flavors from India, Japan, Korea and Southeast Asia. Select your favorite dishes from the 4 food stations, pay for your meal and settle in to recount your adventures at one of 5 elaborately themed dining rooms.
A Disney Christmas – Treasure your Traditions
(November 14, 2019 - January 1, 2020)
At Hong Kong Disneyland, Christmas wonder is all around! Plan your vacation and treat yourself and your family to a festive stay at our hotels. There are so much to do that you must not miss out. Immerse yourself this Christmas spirit with a 3 days 2 nights festive staycation in the resorts. The whole park is glittering with garlands, snowy evergreen trees, twinkling lights, and endless displays of seasonal colors. Bring your friends and your family to stay a while, every day we'll be celebrating a Disney-style Christmas!

Learn More about A Disney Christmas
Heroic Encounter with Iron Man
This is your chance to meet Iron Man himself. After safely touching down from your Iron Wing ride at the Stark Expo, don't miss this once in a lifetime opportunity at the Iron Man Tech Showcase – Presented by Stark industries.
Ant-Man and The Wasp: Nano Battle! Go All-in!
The world's first 'Ant-Man and The Wasp' attraction debuts at Hong Kong Disneyland! Experience the excitement of shrinking down to the size of an ant at the Park's second Marvel attraction - Ant-Man and The Wasp: Nano Battle! Go all-in to become part of this epic battle!
Mickey and the Wondrous Book
A new and spectacularly unique "Happily Ever After" show has been created to bring to life new and classic Disney stories and movies in an exhilarating, musical revue stage production like no other!
'Disney Paint the Night' Parade
Unleash your imagination when Mickey Mouse lights up the night with a procession of Disney Characters and a pageant of magical visions.
Meet the Disney Princesses
Disney Princesses from kingdoms near and far are waiting to meet you at different times.
Meet Duffy and Friends at Main Street Cinema
Mickey's teddy bear Duffy and his friend Cookie at Main Street Cinema and are ready to give out big hugs.
Important Details
This offer is only available to tourists visiting Hong Kong ("Eligible Guests").
This offer is available for purchase online on the website (the "Website") designated by Hongkong International Theme Parks Limited ("HKITP"). In completing the purchase, Eligible Guests are required to provide names, credit card information and other forms of personal data as HKITP may require.
Eligible Guests will receive a confirmation email after purchasing the Offer Ticket(s) on the Website. Upon admission to the Park, each Eligible Guest is required to present (i) the confirmation issued by HKITP and (ii) his/her valid travel document at the Park Main Entrance turnstile for verification purpose.
Eligible Guests holding the Offer Ticket(s) may make two visits to the Park during the period of December 1, 2019 to June 30, 2020 (the "Validity Period"). Eligible Guests must make their first visit before the last day of the Validity Period. Park meal combo vouchers (each, an "e-Voucher") issued with the Offer Tickets are only valid for redemption on the day(s) of Park admission using such Offer Ticket. Offer Tickets and e-Vouchers not used during their validity will be void without exchange, refund or compensation.
Eligible Guests may redeem one meal combo (excluding designated meal combos, promotional menus and kids' combos) at one of the following restaurants in the Park by presenting the Offer Ticket issued together with the e-Voucher:

Starliner Diner (Tomorrowland)
Comet Cafe (Tomorrowland)
Royal Banquet Hall (Fantasyland)
Explorer's Club Restaurant (Mystic Point)

Each e-Voucher is for one-time use only and must be must be presented at the time of ordering and payment. The e-Voucher cannot be used in conjunction with other offers, promotions or discounts.
View Terms and Conditions
Other Offers You May Like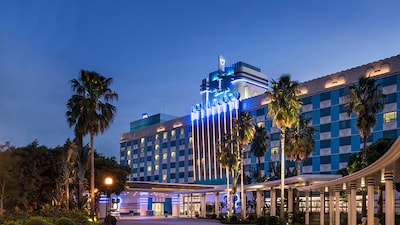 Advance Purchase Room Offer
Room and Hotel Breakfast Package
Hong Kong Disneyland "2-Day Fun" Special Package