Get a complimentary HK$50 merchandise gift voucher or one free Mickey Waffle (Original price: HK$58) with your purchase of 1-Day Ticket - and make your visit even more special!
Detail
Price

Offer includes
- 1-Day Ticket: Standard Day*
- Your choice of
1) HK$50 merchandise gift voucher; or
2) One free Mickey Waffle (Original price: HK$58)

General Admission
(Ages 12 - 64)
HK$ 619
Child (Ages 3 - 11)
HK$ 458
*Valid for one visit on or before July 15, 2018, except for block-out dates from February 18 to 22, 2018.
Carnivale of Stars
Fun is in full bloom this spring all around Hong Kong Disneyland Resort! More than 100 Disney friends are ready to celebrate springtime at the carnival, beginning March 15!

During the day, join over 30 Disney friends in an energetic processional filled with merry music. Then, as the sunlight fades, immerse in luminescent fun at our "We Love Mickey!" celebration – a brand new Main Street projection show. Be on the lookout for surprise encounters throughout the day with all kinds of whimsical Disney characters, and extend the fun with a stay at one of our three resort hotels.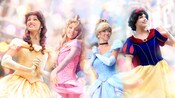 Enjoy non-stop fun in 2018
Experience even more magic of Hong Kong Disneyland in 2018, as we bring your favorite Disney stories, and the latest and greatest from The Walt Disney Company, to life – with colorful special events throughout the year. No matter what your favorite Disney stories are, you can always feel the magic here!

Learn more about the Special Event 2018
Important Details
This offer is only available to tourists visiting Hong Kong ("Eligible Guests").
Eligible Guests are required to present (i) the confirmation issued by HKITP, and (ii) personal photo identification upon Park admission.
Guests are entitled to redeem either one of the followings by presenting the redemption voucher on the visit day only:

one Mickey Waffle at Main Street Market in the Park; or
one HK$50 Merchandise Gift Voucher.

This voucher is for one-time use only. The printed voucher will be collected by Hongkong International Theme Parks Limited ("HKITP") upon usage.
View Terms and Conditions
Other Offers You May Like
Book at least 7 days in advance and enjoy special discount
Room and Hotel Breakfast Package