Buy 1-Day Ticket online to get an extra HK$10 merchandise discount voucher and one of our widely-loved snack items (choose from Mickey Waffle or Disney Friends Sip Sip with a bottled drink) with your purchase!

Add flavorful memories to your visit and enjoy great savings with this package!



MyDisney fans are entitled to enjoy many PLAY, SHOP AND DINE privileges (including a special edition Disney gift and multiple discount vouchers) upon a Park Ticket purchase.
Detail
Price

Package includes
- 1-Day Ticket (Valid on or before May 31, 2020)
- 1 x HK$10 Merchandise Discount Voucher
- Choose from either*:
  • 1 x Mickey Waffle OR
  • 1 x Disney Friends Sip Sip with a bottled soft drink

General Admission
(Ages 12 - 64)
HK$ 639
Child (Ages 3 - 11)
HK$ 475
*Redeem either one of the following snack items by presenting the Offer Ticket issued together with the e-Voucher at designated locations on the day of Park admission:
  - One Mickey Waffle at Main Street Market in the Park OR
  - One Disney Friends Sip Sip with one bottled soft drink at Outdoor Vending Carts in the Park
Disney Sip Sip Cup
A yummy speciality drink in a Sip Sip Cup, styled after a Disney Character – what better way to quench your thirst and take home a unique souvenir?
Mickey Waffle
Take a break from all the adventures and excitement, and bask in the retro and authentic open-market atmosphere as you grab a bite of the classic crispy Mickey waffles. The exciting edibles and authentic atmosphere make for a taste to remember.
A Disney Christmas – Treasure your Traditions
(November 14, 2019 - January 1, 2020)
At Hong Kong Disneyland, Christmas wonder is all around! Plan your vacation and treat yourself and your family to a festive stay at our hotels. There are so much to do that you must not miss out. Immerse yourself this Christmas spirit with a 3 days 2 nights festive staycation in the resorts. The whole park is glittering with garlands, snowy evergreen trees, twinkling lights, and endless displays of seasonal colors. Bring your friends and your family to stay a while, every day we'll be celebrating a Disney-style Christmas!

Learn More about A Disney Christmas
Disney New Year's Eve Countdown Party Package
Say goodbye to 2019 with laughter, singing and magic at the all-new New Year's Eve Countdown Party only at Hong Kong Disneyland!

Come and join the festivities at the first-ever celebration on December 31. Usher in the new year with Mickey and other beloved Disney characters for an extraordinary start to 2020!

Learn More about the Package
Heroic Encounter with Iron Man
This is your chance to meet Iron Man himself. After safely touching down from your Iron Wing ride at the Stark Expo, don't miss this once in a lifetime opportunity at the Iron Man Tech Showcase – Presented by Stark industries.
Ant-Man and The Wasp: Nano Battle! Go All-in!
The world's first 'Ant-Man and The Wasp' attraction debuts at Hong Kong Disneyland! Experience the excitement of shrinking down to the size of an ant at the Park's second Marvel attraction - Ant-Man and The Wasp: Nano Battle! Go all-in to become part of this epic battle!
Mickey and the Wondrous Book
A new and spectacularly unique "Happily Ever After" show has been created to bring to life new and classic Disney stories and movies in an exhilarating, musical revue stage production like no other!
'Disney Paint the Night' Parade
Unleash your imagination when Mickey Mouse lights up the night with a procession of Disney Characters and a pageant of magical visions.
Meet the Disney Princesses
Disney Princesses from kingdoms near and far are waiting to meet you at different times.
Meet Duffy and Friends at Main Street Cinema
Mickey's teddy bear Duffy and his friend Cookie at Main Street Cinema and are ready to give out big hugs.
Important Details
This offer is only available to tourists visiting Hong Kong ("Eligible Guests").
This offer is only available for purchase online on the website (the "Website") designated by Hongkong International Theme Parks Limited ("HKITP"). To complete the purchase, Eligible Guests are required to provide names, credit card information and other forms of personal data as HKITP may require.
Offer Tickets are valid for one visit to the Park on or before May 31, 2020. Park snack and merchandise discount vouchers ("e-Vouchers") issued with the Offer Tickets are only valid for redemption on the day of Park admission using such Offer Ticket. Offer Tickets and e-Vouchers not used during their validity will be void without exchange, refund or compensation.
Redemption of the offer items with the e-Voucher is subject to availability of such items at the redemption locations. HKITP reserves the right to determine the prices of the offer items and to change the operating hours of the redemption locations in its sole and absolute discretion.
View Terms and Conditions
Other Offers You May Like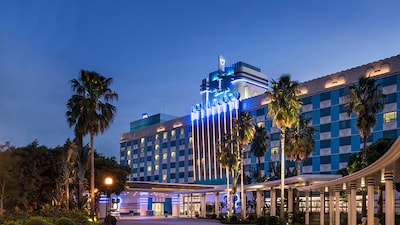 Advance Purchase Room Offer
Room and Hotel Breakfast Package