Save 20% when you stay for 2 or more consecutive nights at Hong Kong Disneyland Hotel or Disney's Hollywood Hotel!

Get ready for a magical vacation at Hong Kong Disneyland!

Check-in Period: NOW - December 20, 2017 

Book online and enjoy FREE room upgrade plus priority admission to Iron Man Experience!
Enjoy Priority Admission to Iron Man Experience with your hotel stay from Dec 23, 2016 onwards!
Prior to the official launch of Iron Man Experience, Guests staying at the resort's two hotels from December 23* will receive a Priority Admission Pass** of Iron Man Experience!

Iron Man Experience
Disney Park's first Marvel-themed ride, Iron Man Experience – Presented by AIA, opens on Jan 11, 2017 at Tomorrowland in Hong Kong Disneyland! Put on a pair of StarkVision glasses and explore Tony Stark's latest innovations up close and fly in the gravity-defying Iron Wing flight vehicle in Iron Man Experience. Whizz alongside Iron Man through streets that resemble those in West Kowloon and downtown, and fly over iconic Hong Kong landmarks like Hong Kong Stark Tower, Tsing Ma Bridge, Victoria Harbour and the city's pristine mountain ranges.

* Excluding January 9 and 10
** Priority Admission Pass will be given according to the no of guests in each room with a maximum of four passes per room, subject to availability.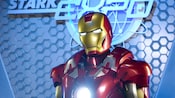 Meet Iron Man and take home Marvel-themed Memorabilia
Don't miss the once-in-a-lifetime opportunity to meet Iron Man himself at the Iron Man Showcase presented by Stark Industries. You can even take home fond memories of this encounter by visiting the Expo Shop and selecting from a range of Hong Kong Disneyland exclusive Iron Man merchandise and more than 250 items of Marvel-themed memorabilia – there is something for every Iron Man fan!
Book online NOW and enjoy FREE room upgrade
Book your hotel stay online to receive exclusive privileges-room upgrade and complimentary drink.

Room upgrade applies to the following categories:

Disney's Hollywood Hotel
Standard -> Deluxe

Hong Kong Disneyland Hotel
Standard -> Deluxe
Important Details
Block-out dates include September 30 to October 1 to 2, 2016, December 22, 2016 to January 2, 2017, January 27 to February 2, 2017.
Actual offer price depends on the check-in date and room category selected.
A 10% service charge based on the discounted room rate will be applied.
View Terms and Conditions
†Guests under age 18 must have parent or guardian permission to call.
Other Offers You May Like
"Three Magical Days"
Check-in: Oct 1, 2016 onwards. Hotel room, Tickets, Meals and MORE!